0
Noir Film Festival Party Tonight at Eddie's in SF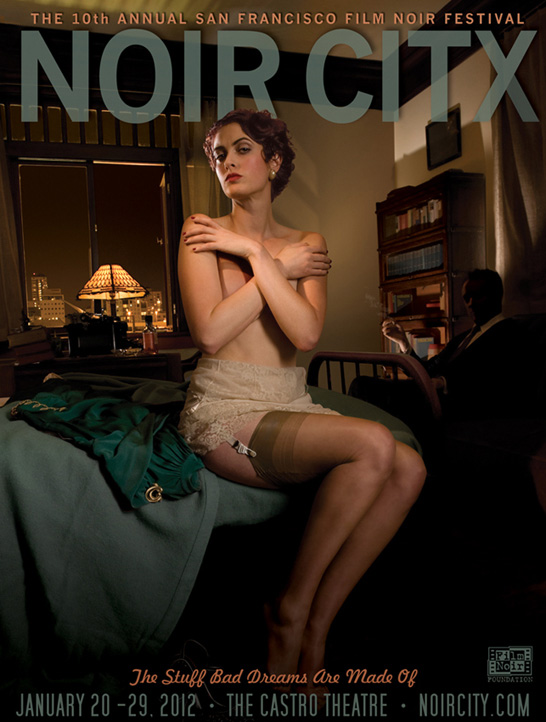 NOIR CITY celebrates its 10th anniversary as the world's most popular film noir festival with a 10-day extravaganza featuring San Francisco treats, a Dashiell Hammett marathon, freshly preserved 35mm rarities, by-popular-demand encore screenings, surprises galore, and super special guest star ANGIE DICKINSON! Join us January 20-29, 2012 for what promises to be the darkest and most delirious incarnation yet of San Francisco's most popular classic film festival: NOIR CITY!

Among the rarities being presented this year: a brand new 35mm print of 1949's The Great Gatsby, starring Alan Ladd as F. Scott Fitzgerald's legendary lovelorn hero. The film has been buried for decades, but Muller's perseverance persuaded Universal Pictures to strike a preservation print for NOIR CITY. The studio also is providing a brand new 35mm print of 1954's Naked Alibi, starring noir's favorite bad girl, Gloria Grahame. The Film Noir Foundation has also funded a new 35mm preservation of the "lost" 1946 classic Three Strangers, which had no viewable prints and has never been released on DVD. NOIR CITY is also proud to have been chosen to premiere the Film Foundation's recently completed preservation of the superb 1950 Michael Curtiz film The Breaking Point, starring John Garfield.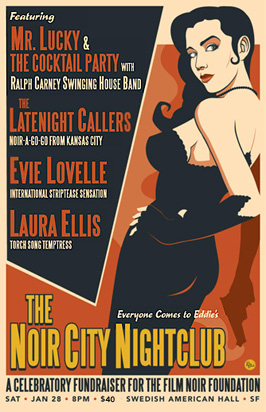 Everyone Comes to Eddie's,
The NOIR CITY Nightclub
Swedish American Hall , 2174 Market St.
(within walking distance of the Castro Theatre!)
TO BETTER ACCOMMODATE OUR NOIR CITY PATRONS, THE TICKET PRICE FOR EVERYONE COMES TO EDDIE'S HAS BEEN REDUCED TO $40 PER TICKET BEGINNING WEDNESDAY, JANUARY 25! WE WANT EVERYONE TO CELEBRATE NOIR CITY'S 10TH ANNIVERSARY ON SATURDAY NIGHT, JANUARY 28!
NOTICE: For those individuals who have already purchased a $75 NOIR CITY Nightclub ticket, the Film Noir Foundation will refund your $35 on Saturday night at the door to "Eddie's"
Swinging lounge tunes, torrid torch songs, classic burlesque, and a helping of neo-noir rock-and-roll is the bill of fare Saturday night, January 28, 2012, as the NOIR CITY film festival breaks out of the majestic Castro Theatre to present Everyone Comes to Eddie's, a swanky, sexy, and slightly sinister soiree in which the Swedish American Hall is transformed into a vintage 1940s-era nightclub. The one-night special event is an added celebration of NOIR CITY's 10th anniversary. Performances include the mid-century musical stylings of Mr. Lucky and the Cocktail Party with Ralph Carney, vintage noir-inspired torch songs from the luscious Laura Ellis, spectacular striptease from world-renowned burlesque beauty Evie Lovelle, and the dark, mysterious, and danceable sounds of Kansas City's The Latenight Callers, described as "the house band at David Lynch's pool party." Expect more surprises as the night unfolds! "People who make a point of attending all the films on the festival schedule need not fear," said impresario Eddie Muller. "We're running the same double bill that day and night at the Castro, so you can see films in the afternoon and party that night." Cocktail attire preferred.
Tickets for the show, a fundraiser for the Film Noir Foundation, are now priced at $40 each (as of January 25). Admission includes hors d'oeuvres and an open bar, plus entertainment. NOIR CITY Passports do not grant party admission. Separate ticket required. Sorry, no passes. Tickets are now available at the Castro Theatre or online through Brown Paper Tickets.